Dear Mr Vasant
Thank you so much for giving me a smile to be proud of, I cannot thank you enough. Your manner and patience throughout cannot be faulted. My family cannot believe that my teeth are implants as they look so natural.
I would recommend you to anyone who is thinking of having dental implants and I would be more than pleased to show them the work you have done.
Once again, thank you. You have made me so happy and given me back my confidence.
Dental Hygiene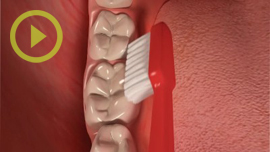 Dental hygiene treatment is delivered by a dental hygienist who will help to remove any plaque from your teeth that may have built up in certain areas. Your teeth will be professionally cleaned with special equipment and pastes, this process is also known as scaling and polishing. An important aspect of the hygienist's role is to show you how to look after your teeth so they remain free from plaque. You will be advised on the best brushing technique and given tips on flossing and using interdental brushes.
Dental hygiene at the dental practice also forms part of treating gum disease and bad breath. If you have a bridge, denture, orthodontic treatment or a dental implant you will have specific hygiene needs that the hygienist will be able to assist you with.
It is recommend that you come in for regular hygiene appointments to ensure your mouth stays clean and healthy.
Coming Soon...