Why Choose Us
Charity
MUSOMA UPDATE ON OUR PROJECTS(Above Musoma in early circa 1960) By Dr Manjul (Manny) Vasant MBE Jan 2007. (Revised 2011)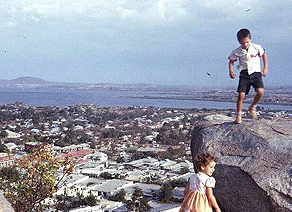 Musoma is a large town (by Tanzanian standards) on the eastern shores of Lake Victoria, about 100 km from the world famous Serengeti Wildlife Park. Up until the 60s and during the colonial times, a community of about 1000 Asians lived there along with a few hundred Europeans and several thousand Africans. The expatriate communities provided the skilled labour force and ran most of the businesses and professions. The town thrived on gold mines, dairy produce, fish, agriculture, sisal and other small scale industries. Following independence in 1961 (Tanganyika was a British Protectorate) as with other neighbouring African countries, most of the Asian and European communities (many of whom were born in Tanzania) emigrated to the UK, North America or other parts of the world.
At the new abode, the people of Musoma have prospered. Many have climbed to dizzy heights! However, four decades later overseas Musomians seem to retain the love and the friendship for the town and the people from which they emigrated. This has culminated in several reunions (sponsored by Firoz Kassam, a prominent ex- Musomian businessman based in London and Monte Carlo). The largest reunions were in 2002 (London) and 2005(Toronto) with combined attendance of 600-700 people. Both the reunions lasted for 3 days and led to benevolent pledges to help those in need in Musoma. These pledges kick started the projects in hand.
I have been involved with the following projects. The funds have been raised from various sources. The principal contributors to date are Overseas Musomians (2002), Britain-Tanzania Society, Central London Dental Study Group, Anglo-Asian Odontological Group, British Dental Association (Southern Counties, British Society for General Dental Surgery) and Dentists from London University (VT Schemes). The following is a summary of projects completed or in hand.
If any individual or institution wishes to give financial or other assistance with this, please kindly contact write to me at Dr M Vasant MBE at 1210 London Rd London SW16 4DN. All funds are channelled through the Tanzania Development Trust which is a registered charity 270462 in the UK. Every penny raised is used for charity and funds are disseminated very carefully. It is noteworthy that, in the following projects, to date, no allowance (not even for travelling or any other reimbursement) has ever been claimed by or paid to any volunteer. Any expense incurred by the volunteers has been borne by the individual concerned.
Project 1 Iringo School (formerly Nanakchand Primary School)
2004 Iringo School :Addition nal classroom and toilet block
This building was erected with financial assistance from Overseas Musomians and the Tanzania Development Trust
www.musoma.com www.btsociety.org
Total Spend £7,000 sterling. Suggestions on how to spend the funds were made by the headteacher (see letter from Head teacher E Meshack)
School Building and grounds
Below: Construction of a toilet block and a new class room- completed 2004
Further £ 2500 approximately, allocated Jan 2007 for purchase of books and sports equipment.
Project 2 Mukendo School (formerly Aghakhan School)
2006 Mukendo School
Grant for furniture was received from Overseas Musomians, Central London Dental Study Group and Tanzania Development Trust
www.musoma.com www.btsociety.org
Total Spend £7,000 sterling (funds dispatched 2005 Dec)
New desks, books, stationery and other furniture (suggestion of how to spend funds made by head teacher Mr Milingai) completed 2006 April
| | |
| --- | --- |
| | |
| School photo Above (Dec 2005) | |
| | |
| | |
Above photos taken Jan 2007 showing new furniture and books. The school also got electricity from the funds for the first time. Further grant £1250 allocated Feb 2007 for computers, sports equipment.
Project 3 Refurbishment of Dental Unit at Musoma Hospital
2006 Dental Department refurbished with grant from
British Dental Association (Southern Counties Branch), Tanzania Development Trust (Coordinated by M Vasant and P Kapoor)
www.musoma.com www.btsociety.org
Project completed 1st phase Feb 2007 2nd phase Feb Oct 2008 Approximately £7,000
| | |
| --- | --- |
| | |
| Above: Dental Unit in need of refurbishment | |
Below: New roof, windows, floor, toilet and tiling being done. Last photograph shows completed consulting room with new windows, doors and furniture
| | |
| --- | --- |
| | |
| | |
| | June 07 (Thanks to BDA Southern Counties) |
Project 4 Improving Basic Resuscitation Unit and Acute Care facilities at Musoma Hospital in loving memory of Yash Chirag Shah who was taken away by the angels at the hospital (aged 9 months) in 2003
2007 June: Resuscitation Unit Built with financial assistance from
Vocational Dental Practitioners and Trainers (Uni of London), Tanzania Development Trust, Ex- Musomians and other donations (Coordinated by M Vasant, Prem Kapoor, K Kapoor, Pravin Shah, M Gachuma. Pankaj Patel)
www.musoma.com www.btsociety.org
| | |
| --- | --- |
| | |
| The town | The Hospital |
Background: During my visit to the hospital when I met Chirag Shah (recent émigré to Musoma from India), who runs a motor spares shop. He recited a sad story (not uncommon) that his own 9 month old baby, Yash, who died at the hospital due to lack of oxygen machines and basic equipment. He has very kindly agreed to have his family photograph published herewith.
Funds (about £25,000) for this have been raised by Vocational Dental Practitioners (University of London), ex Musomians and other donations from well wishers from a walk along the River Thames in June 2006 . Second walk 22nd June 2007 has produced funds which have been be used to enhance this project. (now they have six Oxygen machines)
Chirag and family
Resuscitation Room at Musoma Hospital 3 Beds, oxygen concentrators, crash trolley etc (2007 June)
Project 5 Skills4Work ongoing with Lake Victoria Disability Centre (LVDC see below)
For Dental, Medical and other skills
We have some residual funds from the charity walks of 2007-2009. Members of the BSGDS and AOG have expressed desire to visit the area in Sept/Oct 2010 (dates to be agreed) with a view to carry out voluntary work/teaching in the field of medicine, dentistry, DIY, teaching and generally just helping out. We will work with LVDC (below).
We have identified 8 individuals (from medical background in Musoma) who we can give train on simple hygienic extractions and ART restorations etc. We are hoping to stay in the Musoma area for 4-5 days, Following that volunteers may wish to visit neighbouring Serengeti National Park and Ngorogoro Crater (at their own expense, of course). First lot of volunteers due on Sept 13th 2010.
We will be looking for further donations form dental trade and other societies e.g. Lions Club. If you wish to assist in any way please contact Dr M Vasant MBE 1210 London Rd London SW16 4DN
The following equipment has been purchased from Dentalaid or donated by others which will be used for treating patients in remote rural areas around Musoma and also be used for training other health workers. The equipment will be donated to the LVDC. In addition a laptop and a LCD projector has also been donated available for mass oral and general health promotion/education- particularly to highlight the dangers of infant mutilation. Examples of portable equipment are below (chair, dental unit includes drills, scaler,additional battery operated drill and manual suction)
Vocational Training for the Handicapped (Lake Victoria Disability Centre)
http://www.lakevictoriadisabilitycentre.org/
Vocational Training programme for handicapped people under the age of 25 has been in existence for a few years. Work carried out there under the helm of Denis Mahina (in photograph below with Dr M Vasant) is exemplary for Africa. The aim of this workshop is to help handicapped people and teach them a skill with which they can find work in the market place. When they "graduate" a basic tool kit pertaining to their skill is given to them which they can take away to start their vocation. For example, men will be given some carpentry tools whilst the ladies are given sewing machines with which to start their business. The scheme is highly successful (see following photos). Expansion programme is underway for which further funding is sought. Lizzie Cameron (based in Edinburgh) has been visiting Musoma on regular basis to assist with this.
In essence this time round we are extending the programme to teach dentistry to able people
| | |
| --- | --- |
| | |
| Photos showing disabled people at work | |
| | |
| | Their way of saying "Thank you" |
| | |
| Disabled trainees in action | Dr Vasant with Denis Mahina |
About the Tanzania Development Trust www.btsociety.org/Registered Charity no 270462TDT is the charitable arm of the Britain Tanzania Society. It was established as a registered UK charity in 1975 with the aim of alleviating poverty in Tanzania through assistance with projects in health, water supply, education and community based self help activities.
We tend to allocate funds to the projects of a capital nature trying to ensure that the seed we sow both alleviates an immediate problem and does so in a way that future generations will also benefit, also acting as a catalyst encouraging project sponsors to go on and achieve more. We like to see local contributions being made to the projects we support for the obvious reason that this sense of ownership enhances the chances that the project will work. We believe that TDT can add value to the process of charitable giving to Tanzania through its experience and ability to identify, assess and monitor projects. This is enhanced through our network of members on the ground in various parts of Tanzania and the frequent visits by members from UK. There are no administrative costs charged by TDT – all inputs are on a voluntary basis.